Welcome to The Spinoff's live updates for October 14, by Stewart Sowman-Lund. Auckland is now at step one of the alert level three pathway, Northland and parts of Waikato are in regular level three. Reach me on stewart@thespinoff.co.nz

Still to come…
1pm: The latest Covid-19 case numbers will be released at the final scheduled press conference of the week. We're anticipating an update on the Northland and Waikato lockdowns after they were extended yesterday, along with the latest "mystery case" tally for Auckland.
11.15am: Act narrows gap with National in new poll
The Act Party has inched even closer to overtaking National, according to a new poll.
It's sitting on a record 16% in the new Talbot Mills Research, reports the Heraldsource, just six points below National on 22%. Labour's up one point to 46% and, coupled with the Greens on 7%, would comfortably return to power were this result to be replicated in 2023.
The results are unsurprisingly slightly skewed toward Labour considering the polling company – formally known as UMR – produces the party's own internal numbers.
Once again, David Seymour is the de facto opposition leader. He's sitting seven points ahead of Judith Collins, 16% to 9%. Jacinda Ardern remained the preferred PM with a whopping 51%, although that's a sizeable drop from the 65% she recorded at the height of the Covid-19 pandemic.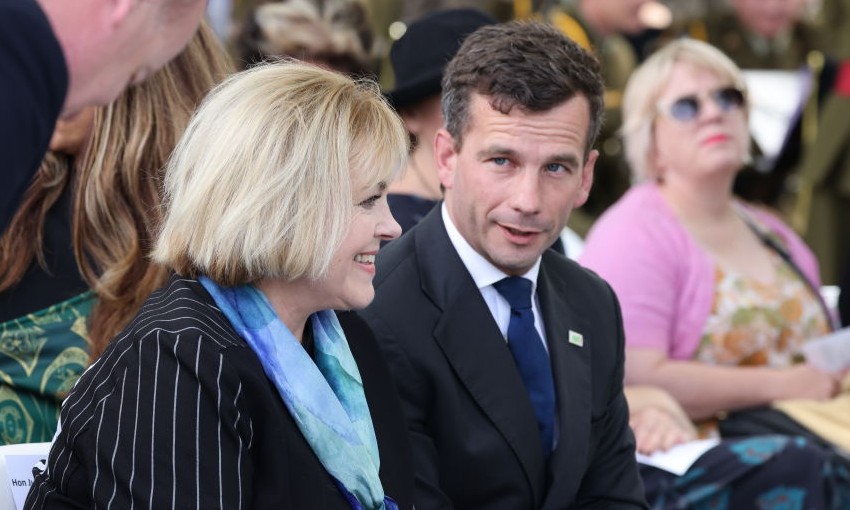 10.30am: Rapid testing to be rolled out to 25 workplaces
Rapid Covid-19 tests will be rolled out across a group of roughly 25 workplaces, the associate health minister has announced.
The government signalled last week it had partnered with the business community to investigate introducing the less accurate antigen tests into the Covid-19 response. Now, the green light's been given and 300,000 tests have been ordered.
"Some of the businesses in this group are already using rapid antigen tests successfully overseas, and their international experience has helped develop this New Zealand scheme," said Ayesha Verrall. "We will continue to refine, learn and iron out any issues in this first phase, before we look at how this testing can be rolled out as part of our wider Covid-19 response."
While this announcement is welcome, it's long overdue. The introduction of antigen testing has been called for by some business groups and the opposition for months and, over a year ago, the Roche report suggested rolling out alternative testing as a priority. The government defended its approach, saying PCR testing was most appropriate for an elimination strategy.
"To begin with, businesses will use nasal swabs. Rapid antigen testing can provide a result within around 15 minutes. But they tend to be less sensitive at detecting cases, so PCR tests will remain the mainstay of Covid-19 testing in most situations," Verrall clarified.
Auckland Airport's chief executive Adrian Littlewood said rapid testing is a vital added layer of protection to help identify chains of transmission. "Businesses are focused on protecting the health and safety of their teams, as well as ensuring their critical work sites can continue to operate when there are cases of the virus in the community," he said.
10.10am: Health minister 'confident' with ICU capacity
Health minister Andrew Little has denied claims that New Zealand's lacking intensive care space.
Currently, there are six people with Covid-19 in Auckland ICUs but this number could grow significantly should the outbreak continue to worsen.
Little, speaking at a press conference, said there were roughly 340 ventilators in New Zealand with 16% currently being used. "So in terms of capacity to respond for additional patients, I'm confident the capacity is there," Little said.
8.40am: Full trailer drops for Peter Jackson's Beatles doco
Peter Jackson's upcoming three-part (of course) docuseries about The Beatles has released it's first full length trailer. After being pushed back due to Covid-19, the long-awaited documentary will finally drop on Disney+ next month.
Edited together from 57-hours of restored, unseen footage, The Beatles: Get Back follows the band as they prepare for an historic concert in 1969.
8.00am: Home isolation coming sooner rather than later
Positive cases of Covid-19 could soon be allowed to self-isolate at home rather than being moved into a managed quarantine facility.
That's according to the minister in charge of our pandemic response, Chris Hipkins, and comes in the face of rising daily case numbers in Aucklandsource.
Hipkins told RNZ that moving away from MIQ was necessary to stop facilities being overwhelmed. "Fairly soon [you will] see us having to move to more of a home isolation model for those positive cases, rather than converting more and more of our MIQ facilities to cope with domestic cases," he said.
"The last peak that we saw a couple of weeks back, I think we went to the peak of what we could do in terms of MIQ, and I don't envisage that we will go above and beyond that."
While the lockdowns in Waikato and Northland are largely continuing to pursue the elimination strategy, Auckland's ongoing level three seems to be more about suppression of the virus. Currently, there are 75 "mystery" Covid cases in the city with latest modelling suggesting each could spread the virus to 1.2-1.3 other people, leading to a growth in numbers.
Hipkins said that home isolation has been done before, successfully. "We've done that before in our first lockdown last year, we did isolate positive cases within their own homes by and large," he said.
The opposition are in support of the move, with National's Chris Bishop saying it was clear MIQ space was running out. "We're going to have to look at alternatives and the only feasible alternative is home-based isolation," he said. The Act Party are similarly supportive – but want a more immediate change. In a press release, leader David Seymour said that if MPs are allowed to leave locked down Auckland so long as they test negative and isolate for five days, nurses and skilled migrants should be allowed to do the same.
"If that sort of arrangement is ok for them, why not everyone else? How come speaker of the house Trevor Mallard can move faster and more sensibly than the Jacinda Ardern government?" questioned Seymour
Yesterday's headlines
Northland and parts of Waikato will remain in alert level three lockdown for another five days.
This will be reviewed on Monday, October 18.
There are 55 new delta cases in the community, including two in Waikato.
The Waikato cases have not yet been linked.
Four people – two patients and two staff members – have now tested positive in the North Shore Hospital dialysis unit.
An Auckland ECE teacher has tested positive, with six children deemed close contacts.
A truck driver who visited Northland has tested positive.